Crawling Tips for Baby
Throughout my research on baby crawling, I've come across many crawling tips. I would like to share with you a proven technique so powerful, it will make your baby more tolerable to stomach lying.
And guess what?
You can safely use it on babies as young as 3 months old!!
Lets get started...
Valuable Crawling Tips Get Your Baby Crawling in NO Time
Crawling may not happen naturally if your child does not endure lying on his stomach.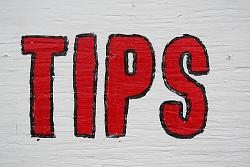 Use this technique below to help with baby crawling and make your baby more tolerable to lie on his stomach.


Tip 1 - Place your baby on his/her stomach on a carpet on the floor.
Tip 2 - Gently hold your baby by the elbows and draw both elbows towards your baby's body as if he/she wants to lie down on his/her elbows. Continue to provide support.
Tip 3 - Try to get some measure of the distance between the floor and your baby's upper body in the supported position.
Tip 4 - Get a roller/ball with approximately the same diameter as you've just measured. Rollers are soft cylindrical shaped toys - preferably solid. You can use an inflatable infant crawling roller, but solid ones normally last longer and can also be used to help baby crawl and later to sit and walk. Place the roller between your baby's upper body and the floor for support. The roller shouldn't be too big. Your baby's elbows must still reach the floor when lying on the roller/ball.
Tip 5 - Put the roller/ball underneath your baby's upper body... arms hanging over the front of the roller/ball. This supported position will also allow your baby to lift his/her head and exercise the neck muscles.
Tip 6 - Get down on the floor directly in front of your baby, facing him/her. Now, let your baby look at your face while you talk in a high voice tone.Make funny faces to amuse your baby and let this exercise encourage your baby. Crawl like a baby on the floor with your child and urge him to look up to your face.
Remember: Your baby should focus on you or a toy in front of him/her. A focus point will encourage him/her to exercise those muscles to reach for a object.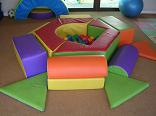 Crawling Tips Rollers
The roller/ball helps your baby to lift his/her upper body and stimulate visual perception. The more you exercise those muscles the sooner they will be able to endure longer sessions. But make sure they enjoy this activity. I was thinking to make crawling baby knee pads for my baby, but realized to stimulate crawling knees tips...
You only need to spend 3-5 minutes daily to get results.
...But, you will see results more quickly if you can fit in more than one session per day.
Repeating the crawling tips above will get your baby supporting his/her body on both knees and straight arms. Now only the moving forward motion should be added for the all important midline crossing. Also think about buying a crawl baby doll to do this exercise alongside your baby.
Now, don't rush off to the nearest baby store to buy an infant crawling roller or rollers helping baby crawl as shown on the right - a soft inflatable ball will also do the trick.
I used a smaller version of those big gym exercise balls and it worked perfect!! You can always use the ball afterwards to exercise hand-eye coordination or exercise your own stomach muscles.
  The Bottom Line ...
...to get your baby crawling is easy, critically important... yet, often neglected. But with these easy crawling tips and affordable method it's a breeze.